It was just a week ago today that we started off our trip at the Magic Kingdom. Like most families traveling to Disney, we just had to see the Magic Kingdom on our first day!
One thing I wanted to mention was that I ordered a few groceries through a service called Garden Grocer (gardengrocer.com). For a small fee ($12 I think) I placed an online order for food items that were delivered right to our resort. This is not a Disney company, they are a private grocery service that delivers to all Orlando area resorts. I had breakfast items (cereal bars, milk, juice, bananas, muffins) delivered so that we could save time and money and eat our breakfast in the room. I thought it would be difficult to have the kids wait to eat until we got to the parks. This really worked out wonderfully and I would recommend it to anyone. I think I spent around $60 total, and that was for the 6 of us for breakfast for the week! They also deliver paper products and baby items.
Before we left, I had to paint Princess Cara's toenails! This is one of my favorite trip pictures! Notice the crown people… 
After we were all ready to go, we walked to the main building of the Grand Floridian and up to the 2nd floor where the monorail station is! This monorail line goes in a loop around the Magic Kingdom resort area. Once we boarded it at our resort, the next stop was the Magic Kingdom! On the way home, the monorail stopped at the Transportation Center, Contemporary Resort, and the Polynesian Resort before reaching the Grand.
The kids LOVED the monorail. The boys each called it, "My monorail!" We bought both Eli and Brady their own remote control monorail cars as souvenirs.
Here are the kids waiting for the monorail.
We arrived at the Magic Kingdom before it opened so that we could see the opening celebration. Picture a group of singers and dancers up on the train station platform at the entrance. They sang a cute song and then all of a sudden we heard the train whistle blowing…and then…we saw Mickey, Minnie, and all of their friends riding on the train. The crowds of excited families were all waiting below and I know I could hardly contain my anticipation. Then they shouted a countdown from 10….and Voila! The gates were open!
We got our two double strollers at the front gate of each park. I'll take a minute and give my review of Disney strollers now. Remember, my reviews are just my opinions. Disney strollers are expensive to rent ($15 a day/single, $31 a day/double). Here is a pic of a double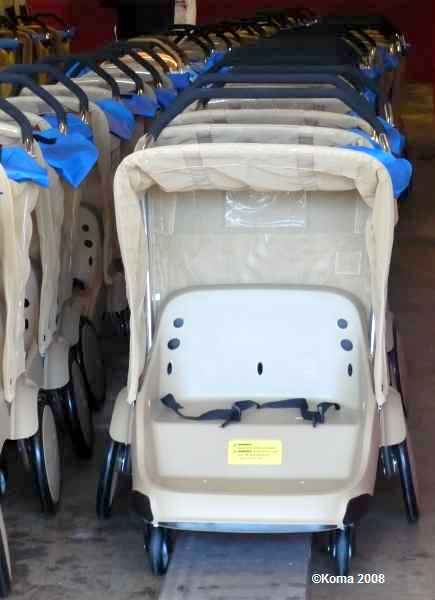 You can also bring your own strollers into the park. We brought our single one from home to use for the baby while we  traveled, but knew that we would need a stroller for everyone once we got there. Everyone seems to have a stroller at Disney, and I even saw many 5+ year olds in them. There is a lot of walking and maneuvering in crowds, so we wanted our kids strapped into something!
Overall I liked the strollers a lot. There is one large seat for the double, with two seat belts. My kids get along pretty well, so sitting that close to each other wasn't a problem. The seats are a hard plastic, so none of my kids were able to nap in them, and I didn't see many other kids napping in the Disney strollers. The strollers were really easy to push.
My one complaint was the lack of storage. Each had two small mesh pockets behind the seats, but they weren't big enough for a good-sized diaper bag to fit in. We ended up using the Velcro strap from the rain covers to tether our bags to the handle bars. I would recommend bringing a few of those stroller-handle hooks with you from home for hanging storage. Okay, enough boring stroller info!
We headed down Main Street USA and got the classic picture that all families at Magic Kingdom take on that first day! Hooray!
The kids were overwhelmed and I don't think that they quite knew where to look. It was hard to talk to them when they were in the strollers, but I could hear them chatting with each other and it was precious.
From Main Street USA we headed to Adventureland. Our first ride was on the Jungle Cruise! This is the corniest ride ever…your tour guide tells really bad jokes while you ride along the river and see fake animals and tribal natives along the way. It may not be the most realistic ride, but it is a classic!
From there we headed over to Pirates of the Caribbean! This has always been a favorite in my family and I couldn't wait to share it with my kids. Then I remembered that there are skulls, cannons, and pirates pillaging villages. We just made a big joke out of it and the kids did great. Now Eli says to me all day, "Ahoy Matey!" And Brady sings, "Yo Ho! A pirate's life for me!"
We were SO happy to have "Gramma Lynn and Grandpa Wes" join us from their winter home a few hours away! We had a reunion right in Adventureland! The kids were so happy to see them!
Next the kids wanted to ride on The Magic Carpets of Aladdin. It figures that their favorite rides would end up being the ones where they ride on something that spins and goes up and down. We all had a great time riding with them (over and over and over…)
I packed Cara's princess crown in my suitcase knowing that she would want to wear it. I remember from past trips that many little girls dress in full princess costumes while at Disney. I knew I wouldn't want to deal with all of that, but wanted her to feel special. She LOVED wearing her crown, and loved even more how many of the male Cast Members (Disney employees) would bow when they walked by her and say, "Hello Princess!" At first she looked at them liked they had two heads! By the end of the week she would stand there flapping her arms waiting for her princess greeting. She even told one of them, "Look, I have a crown too!"
After Adventureland we headed back towards Cinderella's Castle and watched the Dream Along with Mickey Stage Show. It was just adorable and we were right in the front. It was a beautiful sunny day…
After the show we went to Fantasyland which had the most to offer toddlers. Of course we went on It's a Small World and had more than enough adults to snuggle up with all of the kids on the rides. I should mention that Allie was able to go on almost all of the rides with us. We didn't put her on rides like the carousel and Dumbo since they go around and around in circles. She was such a trooper and just did everything the big kids did.
I didn't make any meal reservations for our first day, but we were able to get tables at Liberty Tree Tavern in Liberty Square. The crowds were really light in the park that day, so they were able to take our party of 9 in just a few minutes. I'm giving Liberty Tree Tavern 4 stars (****). Our wonderful waiter Brahim took great care of us even though we were at two separate tables. The food was delicious and Brahim made this momma happy by bringing out the kids' food a few minute before the rest, and even brought extra plates without me having to ask. Matt ordered Chicken and Dumplings, and when Eli heard this, he said, "Grandma, I want some chicken and dumps!" Ha!
After lunch it was back to Fantasyland for rides on the carousel. Look at this cute pie!
Brady was glued to Grandpa's side for a lot of the trip…they were good buddies. He didn't want to ride a horse, but instead wanted to snuggle up on a bench and ride.
After a few more rides, we knew it was getting close to nap time. Instead of taking the monorail back to the resort, we took the boat. You can see how BIG the Grand Floridian is in the distance in the picture below. Grandma Kathy handed out lollipops for the ride back.
You may have noticed by now that our Brady boy held onto that Give Kids the World button on his shirt throughout the whole trip. You'll notice him holding it in many of the pictures…
We took a picture of the triplets next to a set of tiny triplet palm trees.
The kids took great naps all week. We brought their white noise machine from home and I think that helped give them a sense of familiarity. While they napped, Matt usually rested too and I packed things for nighttime and explored the resort. I know, I know, I should have napped! I'm weird about that…I have a hard time relaxing on vacation!
After naps the skies looked a little ominous. We put the kids in their rain ponchos and headed back to Magic Kingdom. This time we took the Walt Disney World Railroad from the front gates to Mickey's Toontown Fair. We spent time exploring Mickey's Country House and Minnie's Country House.
It started to pour while we were in Minnie's house. We made a run for it, although we had no idea where we were going! We took a left and ended up at Cosmic Ray's Starlight Cafe. This was a counter-service restaurant with pretty good food, but it was dark and loud. I give it two stars (**) since everyone liked what they had, but it was one of the big, cafeteria style places that aren't the best when you are with small kids.
We said goodbye to Gramma Lynn and Grandpa Wes after dinner and went back to Fantasyland for a little more fun. We got to ride The Many Adventures of Winnie the Pooh and Brady got to see his favorite character, Eeyore. Of course, the exit of the ride leads you right into the gift shop.
It was about 7pm and we walked towards the castle to try and find a spot for Spectromagic (Electric Parade). We ended up standing (for a long time) behind a pretty big crown to watch the beautiful floats ride by. After the parade we knew it was time to find a spot for Wishes, the Magic Kingdom's Daily Fireworks show.
We walked down to a small pavilion that is across the water from Cosmic Rays. We had a great spot to sit that was covered and we were just to the right of the castle, directly underneath Tinkerbell's flight path! Yes, before the fireworks start, Tinkerbell flew (okay, a tiny woman dressed like her glided down from the top of the castle to Tomorrowland via a zip line) right over our heads!
The castle changes colors every few minutes at night.
Allie enjoying some ice cream before the show.
This is officially the WORST picture you will ever see on this blog. In all of my excitement I couldn't snap a picture fast enough of Tinkerbell. If you look over to the left, that tiny blink of light is her! Cara sat with her hands clasped together and her eyes just sparkled!
We took the boat back to our resort after the fireworks show. While we were waiting, a little girl who had been to the castle for dinner that night put the moves on Eli. They danced and pretended to be Cinderella and Prince Charming!
It was a perfect way to start our Disney Adventure!
Tomorrow I'll share our trip to Hollywood Studios and our dinner at Chef Mickey's!
PS. We are settling in just fine back at home. The kids are extra-hyper and seem to want to be entertained more than usual (hmmm, wonder why?). I get asked a few times a day, "Mom, where are we going today?" or "Momma, where are you taking me on the airplane today?"